Our eBook deal for Matt Helm's 60th Anniversary in 2020!
Published on 21 September, 2020
Authored by Titan Books
All through September we're celebrating the 60th anniversary of Matt Helm's debut adventure, Death of a Citizen, the best way we know how: with a brilliant eBook deal! All month you can get every Matt Helm novel for just 99p/$1.99/CDN$2.99 each!
Matt Helm returned in his fifth novel, Murderers' Row. The department is concerned about professional assassin and counter-agent Matt Helm. Having been given a distasteful assignment—assaulting a fellow agent in order to establish her cover in a top-secret operation—the woman is now dead. Alone in Chesapeake Bay, and pursued by his own government, Helm must complete the dead agent's assignment and assassinate an enemy operative. Unless his employers get to him first...
Pick up your copy of Murderers' Row at our speciail Anniversary Discount price: Amazon US / Amazon UK / Amazon CA
A quiet mission of assassination is no sweat for legendary agent Matt Helm in The Ambushers! That is, until a shapely foreign agent he never got around to finishing off lures him into a strange trek in the wilds of northern Mexico, and a Russian missile smuggled out of Cuba falls into the hands of a political fanatic much too close to home...
Don't miss out on getting The Ambushers at our speciail Anniversary Discount price: Amazon US / Amazon UK / Amazon CA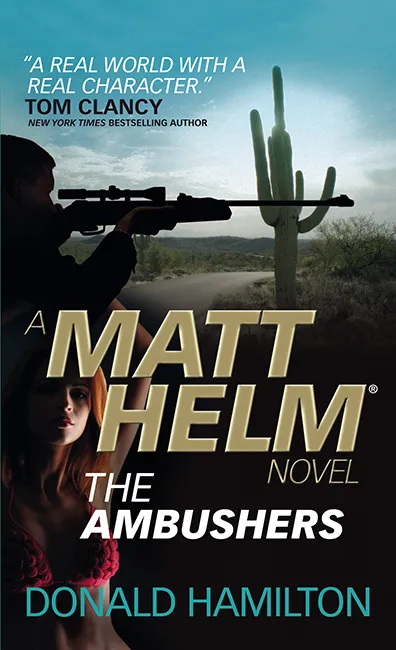 Including these two brilliant adventures, Matt Helm starred in 27 novels selling more than 20 million copies worldwide, four blockbuster movies with Dean Martin in the lead role and a classic TV series. Catch up with our previous blog posts about Matt Helm's first four adventures here and here!
"I've been reading this guy since I was in college. He captures a real world with a real character." - TOM CLANCY New York Times-Bestselling Author
Don't forget to follow us on social media so you won't miss any Titan Books news and deals; you can find us at Facebook, Twitter & Instagram!