Check out our Range of Holmesian Titles
Published on 24 April, 2020
Authored by Titan Books
Can't get enough of Sherlock Holmes, the world's greatest detective? Never fear – we have you covered with our extensive range of titles inspired by the world-famous sleuth – from tales that could easily have been written by Conan Doyle himself, to stories that put an entirely new spin on things. Get ready, because the game is afoot!
Sherlock Holmes and the Christmas Demon by James Lovegrove
It is Christmas 1890, and Sherlock Holmes and Dr John Watson are visited by a new client. Eve Allerthorpe – daughter of an eccentric Yorkshire dynasty – believes she is being haunted by a demonic Christmas spirit. Her mother had told her terrifying tales of the sinister Black Thurrick, and Eve is sure that she has seen him from her bedroom window. What is more, she has begun to receive parcels of birch twigs, Black Thurrick's calling card…
Sherlock Holmes: The Sign of Seven edited by Martin Rosenstock
A collection of seven brand-new novellas written by masters of the Sherlock Holmes pastiche, including Andrew Lane, author of the Young Sherlock series, New York Times bestseller James Lovegrove, and Edgar Award nominee Lyndsay Faye.
Mycroft Holmes by Kareem Abdul-Jabbar & Anna Waterhouse
Written by NBA superstar Kareem Abdul-Jabbar and screenwriter Anna Waterhouse, Mycroft Holmes reveals the untold story of Sherlock's older brother. This harrowing adventure changed his life, and set the​ stage for the man Mycroft would become: founder of the famous Diogenes Club and the hidden power behind the British government.
Mycroft and Sherlock by Kareem Abdul-Jabbar & Anna Waterhouse
The young Mycroft Holmes is now a force to be reckoned with at the War Office, although his brother Sherlock continues to be a source of vexation. When a young boy dies of a suspected overdose at an orphanage, the two brothers – along with Mycroft's closest friend Cyrus Douglas – are drawn into an investigation that will reveal nefarious dealings at the heights of the British establishment.
Mycroft and Sherlock: The Empty Birdcage by Kareem Abdul-Jabbar & Anna Waterhouse
It is 1873, and Mycroft Holmes is in service to the Crown once again. A distant relative of Queen Victoria has been slain by the Fire Four Eleven killer, a serial murderer who leaves no mark upon his victims. Mycroft allows Sherlock to take the case, as he has been asked to find a missing person—the fiancé of the woman he loves. As Sherlock hunts for a murderer, both he and Mycroft will discover that greed is at the root of the evil they must unearth…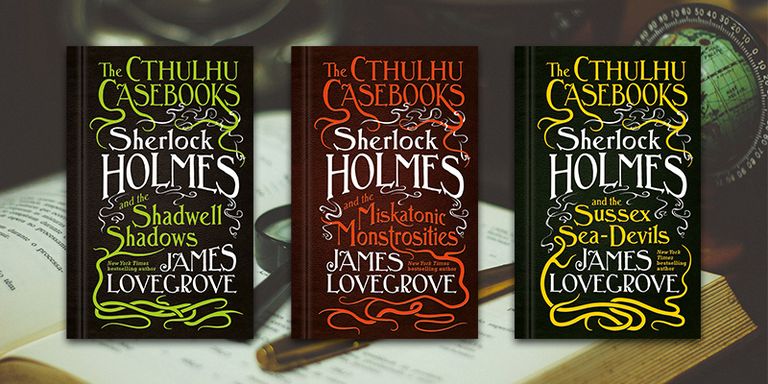 The Cthulhu Casebooks - Sherlock Holmes and the Shadwell Shadows by James Lovegrove
Dr John Watson has just returned from Afghanistan, desperate to forget a nightmarish expedition that left him doubting his sanity. He meets the extraordinary Sherlock Holmes, who is investigating a series of deaths in the Shadwell district of London. Holmes deduces a connection to a sinister drug lord who is seeking to expand his criminal empire. Yet both he and Watson are soon forced to accept that there are forces at work far more powerful than they could ever have imagined…
The Cthulhu Casebooks - Sherlock Holmes and the Miskatonic Monstrosities by James Lovegrove
It is the spring of 1895, and more than a decade of combating eldritch entities has cost Dr John Watson his beloved wife Mary, and nearly broken the health of Sherlock Holmes. Yet the companions do not hesitate when they are called to the infamous Bedlam lunatic asylum, where they find an inmate speaking in R'lyehian, the language of the Old Ones. Moreover, the man is horribly scarred and has no memory of who he is.
The Cthulhu Casebooks - Sherlock Holmes and the Sussex Sea-Devils by James Lovegrove
Now retired from detective work, Sherlock Holmes is called on once again to do battle with occult forces. Members of the Dagon Club, the secretive inner circle of the Diogenes Club, are being killed systematically, among them Holmes's own brother Mycroft. Meanwhile, unrest in Europe is threatening to turn into all-out war, and London is riddled with German spies whose machinations could have far-reaching, apocalyptic consequences.
Warlock Holmes - A Study in Brimstone by G. S. Denning
Sherlock Holmes is an unparalleled genius. Warlock Holmes is an idiot. A font of arcane power, certainly, but he's brilliantly dim. Frankly, he couldn't deduce his way out of a paper bag. The only thing he has really got going for him are the might of a thousand demons. Thankfully, Dr. Watson is always there to aid him through the treacherous shoals of Victorian propriety… and save him from a gruesome death every now and again.
Warlock Holmes - The Hell-Hound of the Baskervilles by G. S. Denning
The game's afoot once more as Holmes and Watson face off against Moriarty's gang, the Pinkertons, flesh-eating horses, a parliament of imps, boredom, Surrey, a disappointing butler demon, a succubus, a wicked lord, an overly-Canadian lord, a tricycle-fight to the death and the dreaded Pumpcrow. Oh, and a hell hound, one assumes.
Warlock Holmes - My Grave Ritual by G. S. Denning
Warlock Holmes and Dr John Watson find themselves inconvenienced by a variety of eldritch beings, and the fact that one of them has goat legs. Christmas brings a goose that doesn't let being cooked slow him down, then they meet an electricity demon, discover why being a redhead is even tricker than one might imagine, and Holmes attempts an Irish accent. And naturally Moriarty is hanging around in some form or other.
Warlock Holmes - The Sign of Nine by G. S. Denning
Warlock Holmes may have demons in his head, but now Dr. John Watson has a mummy in his bloodstream. Specifically that of the sorcerer Xantharaxes, who when shredded and dissolved in an 8% solution, results in some extremely odd but useful prophetic dreams. There's also the small matter of Watson falling for yet another damsel-du-jour, and Warlock deciding that his companion needs some domestic bliss…
Warlock Holmes - The Finality Problem by G. S. Denning
The famous duo has been split! Watson has been banished from Holmes's company. Despite the interference of his horrible wife, Mary, Watson tirelessly insinuates himself into every magical adventure he can. Together, he and Holmes face a man with a twisted… everything, some very questionable juice-drinking Germans, Garrideb the Devourer and the estimable Irene Adler. Yet, nothing can prepare them for Moriarty's new form and the terrible moment they must face their Finality Problem at the edge of the Reichenbach Falls.
Sherlock Holmes vs. Cthulhu - The Adventure of the Deadly Dimensions by Lois H. Gresh
A series of grisly murders rocks London. The son of the latest victim seeks the help of Sherlock Holmes and Dr. John Watson, who discover a common thread that  ties together the murders--and the persons responsible. Bizarre geometries--based on ancient schematics--point to members of a secluded cult who are gaining so much power that even Moriarty fears that his empire is at risk—to the point that he seeks an unholy alliance with his eternal foe.
Sherlock Holmes vs. Cthulhu - The Adventure of the Neural Psychoses by Lois H. Gresh
Amelia Scarcliffe's monstrous brood, harbingers of Cthulhu, will soon spawn. Her songs spell insanity, death… and illimitable wealth. And Moriarty will do anything to get his hands on gold, even if it means tearing down the walls between this world and a realm of horrors.
Meanwhile, after Sherlock Holmes's last tangle with the Order of Dagon, horrifying monsters haunt the Thames, and madness stalks the streets of Whitechapel. Gang war between Moriarty's thugs and the powerful cult can only bring more terror—unless Holmes and Dr. Watson can prevent it. But can they find the cause of the neural psychoses before Watson himself succumbs?
Sherlock Holmes vs. Cthulhu - The Adventure of the Innsmouth Mutations by Lois H. Gresh
Now united, both Fitzgerald and Moriarty travel to Innsmouth, the stronghold of the cult of the Old Ones. Holmes and Watson, accompanied by Mycroft Holmes, follow them across the ocean and discover a structure designed to bring the Old Ones into the human sphere. Yet when it is destroyed people continue to mutate and go mad.
Check out some of the latest titles from our series of standalone Holmesian cases, The New Adventures of Sherlock Holmes!
Sherlock Holmes - The Devil's Dust by James Lovegrove
Mrs Hudson begs Holmes and Watson to help a fellow landlady whose lodger has been found poisoned, and who the police suspect of the murder. The companions discover that the lodger, a civil servant recently returned from India, scrawled a mysterious message as he lay dying. What was he trying to convey, and what is the role of hunter Allan Quatermain, who is spotted at the scene of the crime when Holmes and Watson investigate?
Sherlock Holmes - The Vanishing Man by Philip Purser-Hallard
London, 1896. While attempting to prove the existence of telekinesis to a scientific society, a self-proclaimed psychic disappeared from a locked room, in front of several witnesses. As Holmes and Watson investigate, the case grows stranger. The members of the society all have secrets, and when one of them is found dead, events take a far more sinister turn…
Sherlock Holmes - The Manifestations of Sherlock Holmes by James Lovegrove
Maverick detective Sherlock Holmes and his faithful chronicler Dr John Watson return in twelve thrilling short stories. The iconic duo find themselves swiftly drawn into a series of puzzling and sinister events: an otherworldly stone whose touch inflicts fatal bleeding; a hellish potion to unlock a person's devilish psyche; a fiendishly clever, almost undetectable method of revenge and many more – including a brand-new Cthulhu Casebooks story.
Want more standalone mysteries? Make sure to take a look at the series The Further Adventures of Sherlock Holmes!
The Further Adventures of Sherlock Holmes - The Instrument of Death by David Stuart Davies
A society lady staged the theft of a priceless ruby and tried to frame her husband – but just as Holmes reveals the truth, she is found murdered. Holmes deduces that this is no crime of passion, but the work of a ruthless killer with no connection to the jewel. With reports of a man in a strange, trance-like state, Holmes finds himself entangled in a dangerous game of cat and mouse with the sinister Dr Caligari…
The Further Adventures of Sherlock Holmes - The Martian Menace by Eric Brown
For the second time in human history, Martian invaders occupy planet Earth. After a common terrestrial virus thwarted the first deadly invasion, another Martian armada arrived six years later to make peace. Now, mankind enjoys unprecedented prosperity due to the aliens' scientific wonders and technology, and an entente exists between the two races. But when Sherlock Holmes and  Dr John Watson are called upon to investigate the death of an eminent Martian philosopher, they unravel an intricate web of betrayal and murder that leaves no one – human or Martian – beyond suspicion…
The Further Adventures of Sherlock Holmes - The Venerable Tiger by Sam Sicilliano
A young woman begs Sherlock Holmes to reclaim some jewels kept from her by her tyrannical stepfather, Captain Grimbold Pratt. But shortly after agreeing to take her case, Captain Pratt comes to Baker Street, not quite so tyrannical as the lady would have them believe. Holmes and his cousin, Dr Henry Vernier, must unravel a family mystery dating back to the Indian Mutiny, where neither of them know who to believe…